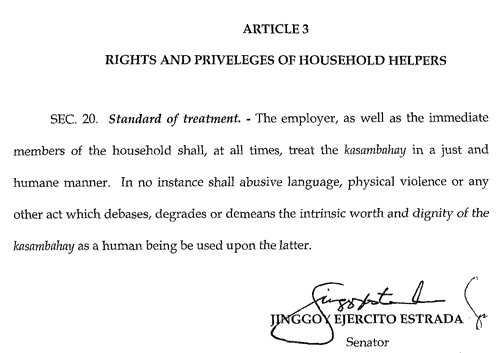 Around two million household will be given protection against abusive employers with the fast progress of "Kasambahay Bill" in Congress and the Senate.
Senator Jinggoy Estrada said it only needed to do some amendments and revision bill before submitting it to the Office Of The President.
Enclosed in Kasambahay Act is comprehensive benefits as well as the proper amount of compensation to be received by household helpers from their employers.
Estimated household now has reached two million here in the Philippines. Approximately P3, 000.00 per month is paid for helpers in the national capital region. And around P1, 500.00 to P2, 500.00 per month in the provinces.
They should also guarantee that helpers are able to recieve benefits from their employers such as PHILHEALTH, SSS, and PAGIBIG.
Furthermore, the employers are obligated to give a day-off to their helpers and they cannot force them to work on their day-off.
Meanwhile,the city government of Manila is in coordination for the arrest of Analiza and Reynold Marzan who abused their helper Bonita Baran.
The Senate and the Quezon City Trial Court issued 2 arrest warrants against the Marzan couple but it seems the accused has no intention to attend the hearings.
Senator Estrada and Senator Loren Legarda are hoping for the fast approval of both houses of Congress so as to start the implementation of the bill as soon as possible.